It's time to

Meet & Greet...
Welcome back to Meet

& Greet for our 10th week. I can't believe it's been 10 weeks already, can you?
Join in, meet some fellow bloggers, greet them with comments, and grow your blog with new friends

!
Big thanks goes out to everyone who comes and participates on a weekly basis as this hop grows. We're now extending the hop for a Weekend Meet

&

Greet, hosting Friday nights all the way until the end of Monday. That gives us all extra time to meet new bloggers and gre

et everyone!
Here's how it works:
* Follow the three hosts and our featured guest of the week (first four linkies

below)
Leave us a comment letting us know you're following (or just to say hi), we'd love to follow you back and

/or say hi back!
* Link up and add your blog url to the list!
Please link to your blog home page, not a specific post. And we also like to keep it fami

ly-friendly. =0)
* Please visit and MEET some other bloggers, greet them with a comment and make their day a

great one!
* Grab our button and share with your readers (op

tional, but greatly appreciated if you do).
* Share and invite your friends to join the blog hop.

The more the merrier, right?
* Each week, one participant will be chosen to be the featured

guest for the following week's hop.
* Remember to come back next week and join in on the fun again

!
Meet & Greet Blog Hop will fun Friday - Mondays each week, and we hope to see you

often!
Meet our Hosts:
Sara

from FlowerLandShop lives in Rome, Italy. She creates whimsical, colorful polymer clay jewels, home decorations and animal figurines. Sara's colorful blog shares her projects

, ideas, and some of her favorite finds on Pinterest.
Kim

from 2justByou lives in Northern California, USA. Creative with her entire family, they work together making gifts and homemade sweet treats. Her blog shares pretty much anything - lifestyle, recipes, a little bit of fashion, some popular trends, Mommy adventures

, promotes handmade and has great giveaways!
Laurie

from Created by Laurie lives in Honolulu, Hawaii. She creates handmade custom stuffed animals

with embroidery for personalization. She blogs about life with her little munchkin, projects, funny pictures and has weekly giveaways!
* Featured Guest of the Week

*
Anne Marie
from Moana's Unique Designs lives in Northwest Florida, USA. She creates stunning home decor that usually incorporate some type of bling and often feature

beautiful floral designs. She shares a variety of
topics
on her blog from gardening to home projects and

decor ideas.
Grab our Button!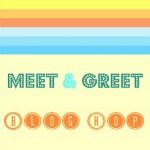 Link up to Meet and Greet!