It's time to Meet & Greet...
Welcome to the Weekend Meet & Greet Blog Hop!
Join in, meet some fellow bloggers, greet them with comments, and grow your blog with new friends.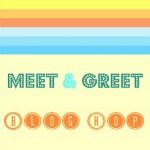 Big thanks goes out to everyone who comes and participates on a weekly basis as this hop grows. We've extended the hop, and it now starts on Friday nights at 6:00 PM, pacific time, and goes all the way until the end of Monday. That gives us all extra time to meet new bloggers and greet everyone!
***Please note: It might take me just awhile to get all my follow backs complete, but I do get to them (even if it's the next week). Thanks for understanding. =0)
Here's how it works:
**

Start by following the three hosts and our featured guest blogger

(first 4 links).
Leave us each a comment letting us know you're a new follower, just to say HI, or to answer our question of the week. We'd love to follow back and/or leave a comment for you on YOUR blog too!
**

Link up and add your blog to the list

. Please link your blog home page, not a specific post. And we also like to keep it family-friendly. =0)
** Please visit and MEET some other bloggers, greet them with a comment and make their day a great one.
** Grab our button, if you like, and share with your readers (optional, but greatly appreciated if you do).
** Each week one participant will be chosen and featured along with the hosts for the following week's hop as our Featured Guest.
** Remember to come back next week and join the fun again!
Meet our HOSTS!
This week we start the Weekly Question. Our hosts & Featured Guest will answer a new question each week, and we invite you to join and answer too! This week's question:
What was your favorite food when you wer
e a child?
My answer: Pizza (I know, I know...Not so original). I was a really (OK, I still am) a picky eater, but I'm getting be

tter!
Laurie, from Created by Laurie says:
I fell in love with peanut butter and marshmallow creme san

dwiches. I still eat them too!
Sara
, from FlowerLandShop says

:
My favorite food was the apple pie!...When I grew I discovered that I'm allergic to apples, this is m

isfortune! XD
***Featured Guest

***
Kayleigh, from Beauty, Life, and Babies says: Hmmm when I was little my favorite food was an "egg in a cup" I'm not too sure if it is common in the US, it's a soft boiled egg mashed in a cup :) I used to have mine with toasted soldiers and a hot

vimto.
And now it's YOUR turn

!

What was your f

avorite food as a child?

Answer with a comm

ent after you link up.