Oh yes, it's Friday night...Time to Meet & Greet!!!
Welcome to the weekend Meet & Greet Blog Hop.
Join in and meet some fellow bloggers, greet them with comments, and grow your blog with new friends!
***Please note that it may take me awhile to get to all follow-backs, but I WILL get to them all, I promise.
Interested in being a Co-Host?
Send an email to 2justByou(at)gmail(dot)com with "Co-Host" in the subject line for consideration.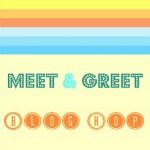 Copy & paste the code above to your blog.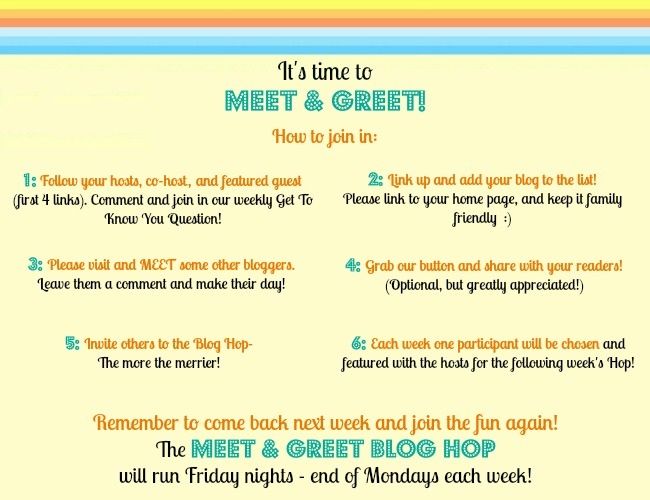 Get to Know You Question of the Week:
WHAT ARE YOU AFRAID OF?
*Hosts*
There are a few things that scare me, one of them is when both of my cats suddenly turn startled and stare at something that I can't see. Especially if they both act like they are watching it move. Creepy!
My answer: I'm afraid of growing old and medical problems that often accompany old age. I can get used to the idea of aging (hopefully aging gracefully). But various health complications that often go hand in hand with age really scare and worry me.
*Co-Host*
Amy from Clippie Dips says:
Water. I'm a grown woman and I can't swim! I cannot stand to get water in my face. I just recently started washing my face in the shower. I used to always do it at the sink after my shower because there was no way I was sticking my face in the water! I tip my head back to wash my hair. No joke!
*Featured Guest*
I'm kinda afraid of life sized robots. I have come across a couple in technology exhibitions and they genuinely panic me!
Now it's your turn!
What are you afraid of?
If you would like to sign up for email reminders for the Meet & Greet Blog Hop, please sign up below. (Your email address and info will not be used for any other purpose.)