If you're a regular reader, you know that today is usually reserved for Friday Features & Giveaways. This week I mixed it up a little bit, but this post is actually in addition to the Majessy Giveaway. Please keep reading...
I just wanted to share a little note from Jessica - a note that she added to the Feature & Giveaway for her shop Majessy from my Tuesday blog post.
Jessica posted the following message in the comments:
My name is Jessica Miguel and 2justByou did this blog [post] about my life. We lost our 5 year old daughter back in November and we have been surviving on the income from my jewelry making. I make very high quality pieces, and I do it whole heartedly as I did with my daughter before she died. I thank you all for reading about my life and as a special thanks for visiting my store, you will receive a gift upon checkout. You only need to say that you came from this blog and I will have a gift for you ready. I also want to thank wholeheartedly 2justByou, as you are a great blog with great people in it.
http://www.etsy.com/shop/MAJESSY
posted February 26, 2013 at 8:58 PM
Jessica's shop opened up right after a tragic loss, and it's how Jessica is keeping busy these days. Let's show her shop some love and support. Welcome her to the Handmade community of sellers.
You can read more of Jessica's story and get to know her a little bit here - Terrific Tuesday Feature & Giveaway. Or click on the button below: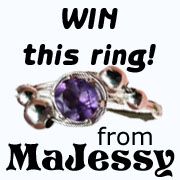 I encourage you all to visit her shop. She's having a GREAT sale going on right now as well (plus a gift with purchase just for being a 2justByou Blog reader! How

cool

is that?).
Now that it's

the month of

March...Who's ready for spring time???
Are you ready for spring
to be here?
What is your favorite thing
about the spring season?
Happy Friday, and thanks for reading. =0)
My name is Jessica Miguel and 2JustBYou did this blog about my life. We lost our 5 year old daughter back in November and we have been surviving on the income from my jewelry making. I make very high quality pieces, and I do it whole heartedly as I did with my daughter before she died. I thank you all for reading about my life and as a special thanks for visiting my store, you will receive a gift upon checkout. You only need to say that you cam from this blog and I will have a gift for you ready. I also want to thank wholeheartedly 2JustBYou, as you are a great blog with great people in it. http://www.etsy.com/shop/MAJESSY - See more at: http://2justbyou.blogspot.com/2013/02/terrific-tuesday-feature-giveaway.html#sthash.Cw01nJDP.dpuf
My name is Jessica Miguel and 2JustBYou did this blog about my life. We lost our 5 year old daughter back in November and we have been surviving on the income from my jewelry making. I make very high quality pieces, and I do it whole heartedly as I did with my daughter before she died. I thank you all for reading about my life and as a special thanks for visiting my store, you will receive a gift upon checkout. You only need to say that you cam from this blog and I will have a gift for you ready. I also want to thank wholeheartedly 2JustBYou, as you are a great blog with great people in it. http://www.etsy.com/shop/MAJESSY - See more at: http://2justbyou.blogspot.com/2013/02/terrific-tuesday-feature-giveaway.html#sthash.Cw01nJDP.dpuf