So today I have a couple of giveaways to share with you. And this first one is so super easy, you will definitely want in on the action!
It's Not Your Average Pinwheel by LeahRHood on Etsy. And she's giving away two custom oversized pinwheel bouquets ($35.90 value) to one lucky facebook fan. All you have to do is visit her facebook fan page, click on the tab that says "giveaway" and click the LIKE button. That's it! Three little clicks and you're entered for a chance to win. Please let her know you're swinging by from 2justByou Blog with a quick post on her timeline (not required, but much appreciated).
There are TWO handmade, handstamped bracelets up for grabs over at Your Charmed Life Blog
-
two winners, two great prizes. And there are just a few days left to enter. What are you waiting for?
=0)
There will be no giveaway posted here on my blog tomorrow, so I thought I'd share these two

with you today. I already entered both!
But don't forget to enter the two current giveaways right here at 2justByou Blog!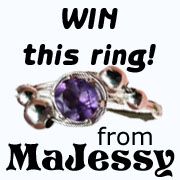 The MAJESSY giveaway ends this Saturday night, so don't miss your chance at the beautiful ring.
I almost didn't realize that Easter is early this year. After next week, my kids are our for Spring Break! It seems like it came so quickly. I've been waiting for spring to get here, but

wow!
If any of you have some fun Easter-theme

d

items, activi

ties, crafts or anything else

to share with me, please share them with a comment.

I might just post them here on my blog!
Happy Thursday, and than

ks for stopping by.