And the winner for our MAJESSY Giveaway is...
ASHLEY M.M.
BIG CONGRATS, Ashley! Ashley worked very hard for this win, with almost 30 entries. She did lots of tweeting and added items from MAJESSY to her Etsy faves quite a bit!!!
And this is just ONE of the items she chose as a favorite from MAJESSY:
Don't forget that today is the last day to join us at Meet & Greet. Click the button below to link up with your blog!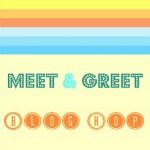 Happy Monday, and I hope you all had a GREAT weekend. Did you do anything fun for St. Patrick's Day?