It's time to Meet & Greet and have some weekend fun!!!
Welcome to the weekend Meet & Greet Blog Hop.
Join in, meet some fellow bloggers, greet them with comments, and grow your blog with new friends!
*Please note: It might take me awhile to get to all follow-backs (I haven't gone through last week's list yet), but I will get to them all, I promise. I thank you so much for your understanding. =0)
Interested in being a Co-Host?
Send an email to 2justByou(at)gmail(dot)com with "Co-Host" in the subject line for consideration and include your blog link.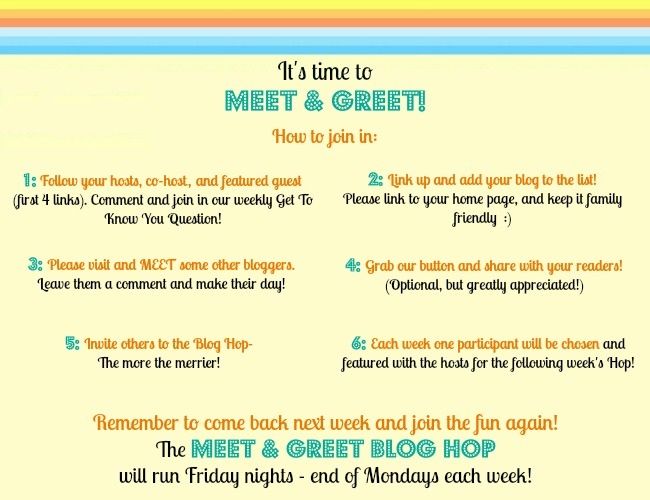 Meet everyone!
This week's Get-to-Know-YOU Question:
What was your most embarrassing injury?
*HOSTS*
There are two times I have been injured that I wish I had a better story to tell. The first was when I fractured my arm - I fell out of a chair! The second was in 8th grade, I went to get out of my desk and as I pushed up I dislocated my shoulder...embarrassing (and painful!). No crazy bike stunts or climbing adventures...Just getting out of a desk...*sigh*
MY answer:
I hope you all don't laugh too hard. My most embarrassing injury was when I was in grade school and just learning how to use a hair blow dryer. For some strange reason (I still don't know why I did this), I rested the hot dryer on my cheek...Yeah, I know, super ridiculous, right?...I had the burn mark of a hair dryer grill on my cheek for a week. So mortifying!!! I'm so glad it didn't scar.
*CO-HOST*
Well I was having a hard time thinking of a time when I had the most embarrassing injury but it just so happens that yesterday as I was walking out of my room, singing at the top of my lungs, I managed to bang my pinky toe on the side of the wall. Of course my "wonderful" singing immediately stopped, as the only thing I could do was just stand there and wait for the pain to pass. Of course my husband couldn't help but laugh at me from the other room. And yes, walking is still a little painful.
*FEATURED GUEST*
What Happens at Grandma's wasn't able to answer the Question of the Week, so this is a short blog description:
This blog is filled with wonderful and creative ideas, crafts and recipes you can do with little ones and pets too!
What was your most embarrassing injury?
Spread the word,
Grab our Button!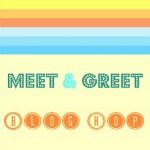 Now link up and have fun!
***Please be sure to follow HOSTS, CO-HOSTS, & the new weekly Featured Guest each week. Thank you! ***
If you would like to sign up for email reminders for the Meet & Greet Blog Hop, please sign up below. (Your email address and info will not be used for any other purpose.)