Hop, Hop, Hop till ya Drop with Meet & Greet!!!
Join in, meet some fellow bloggers, greet them with comments, and grow your blog with new friends.
**Please note: It might take me a bit to get to all follow-backs, but I will get to them all, I promise. Thanks for your understanding.
Interested in being a Co-Host?
Send an email to 2justByou(at)gmail(dot)com with "Co-Host" in the subject line for consideration and include your blog link.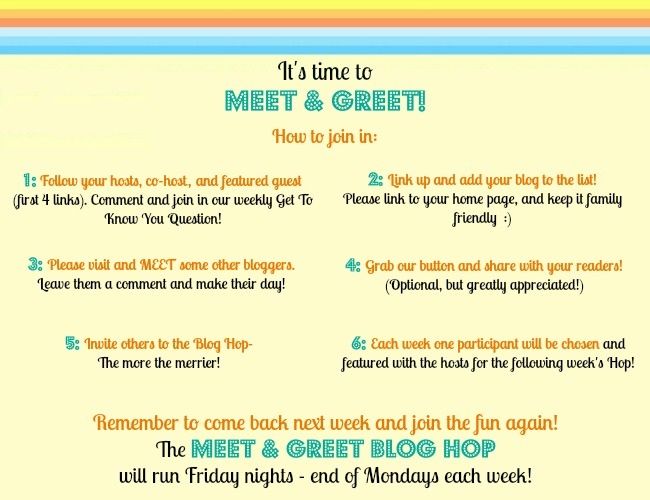 Meet everyone!
This week's Get-to-Know-YOU Question:
Who taught you how to cook?
*HOSTS*
I was in middle school when my parents divorced. My Mother started taking us out to eat instead of cooking - and it was the SAME restaurant every time. I started to teach myself how to cook in the kitchen. (Meanwhile my Father was teaching himself to cook too) Once I went and lived with him he gave me lots of tips and ideas! (He cooks from scratch - bread, beef stroganoff, salsa - you name it!)
MY answer:
Unfortunately, nobody ever taught me how to cook. Sad story...The first time I made cookies, it took me over one ho ur just to find all the ingredients and kitchen utensils to make the cookie dough! And then after all that, my chocolate chip cookies in NO way resembled anything edible. =( After moving out on my own, I taught myself to make simple dishes (I still love the simple & easy recipes), but it really would have been nice to have Pinterest back then, along with all the other great foodie websites that we have now (and help me immensely)! My mom (who has always been long distance) would also visit on holidays and teach me how to bake. I'm a much better baker than a cook. She's good at both and still tries to help me with cooking. Aaah...What would I do without Mom? Because of my experience with no learning as a kid, I try to involve my kids with cooking and baking and make it a fun time whenever they want.
*CO-HOST*
I was taught to cook by two people for the most part actually. My mother gave me my first lessons starting with cream of wheat, fried eggs and oven baked potatoes. Not all for the same meals of course. By age 8 I made my very first dinner all by myself, it included baked chicken, canned corn heated and slightly crunchy boiled potatoes with sugar cookies for desert. My first attempt at the frosting for the cookies netted a horrid green goop, turns out there is more than one type of white powdery stuff that can be kept in a cupboard, I used Bisquick instead of 10x sugar the first round and it tasted as awful as it looked. Fortunately I had the sense to ask for a bit of help at that point and find the right direction before putting it on the cookies. My paternal grandmother gave me my first baking lessons, beginning with my childhood favorite, pumpkin pie. My grandfather happily ran to the store for the ingredients as he was the true definition of a pie addict and then we spent the rest of a rainy afternoon with me learning how to properly roll out, cut out and pinch a pie crust into place with grandmas' very patient directions and assistance in between smacking grandpa's hand as apparently pumpkin pie filling tastes every bit as good from the bowl as in the pie:) Great question and a lot of good memories!
*FEATURED GUEST*
I taught myself. My mother never really taught me or let me cook with her so I experimented with recipes that I would see on TV or read on the Internet and I basically learned by trial and error :)
Now it's YOUR turn.
Who taught you how to cook?
Spread the word,
Grab our button!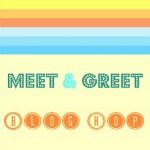 Now Link Up and Have Fun!
* Please be sure to follow the Hosts, Co-Host, and the new weekly Featured Guest each week! *
If you would like to sign up for email reminders for the Meet & Greet Blog Hop, please sign up below. (Your email address and info will not be used for any other purpose.)