We have a winner for the FlowerLand Shop Giveaway! Big congrats goes to...
Federica!
She is the winner of this amazingly cute Grumpy Cat necklace from FlowerLand Shop. Isn't it adorable?

The image is clickable and available for purchase.
As a mandatory entry, entrants need to choose an item from FlowerLand Shop as a favorite. Federica's chosen item is the Goldfish necklace, shown below (also a clickable link).
Much thanks to all entrants and readers. And a big thank you goes to Sara from

FlowerLand Shop

. Visit the shop for more Italian made polymer clay jewelries!
Meet & Greet blog hop is still open, if you'd like to join us and link up your blog. Just click the button below!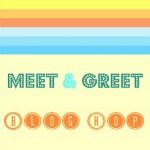 Winner for the $15 gift certificate to Madison Street Beauty still has not been drawn, because I have not yet had the time to manually add the extra entries. We will have a winner very shortly, though, so I hope you stay tuned to find out who it is! Thanks for reading. =0)