Today's Words for my Wednesday are all about PATIENCE. Why? Because I'm still not 100% over being sick, but I'm getting there! I gotta have patience, right? =0)
"Patience is the best remedy for every trouble."
~ Plautus
Do you have a quote, saying or words that you'd like to share? Please do with a comment, and have a great Wednesday. =0)
Click below to join us at Meet & Greet this week!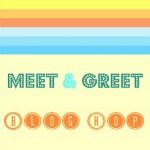 Tweet to @shopjustByou