It's my LAST WEEK of co-hosting the Bloglovin' Blog Hop with Happy Kids, Inc. and friends. Let's make it count!!! Link up and let's party, ending the month with a bang. I've had a great time with you all. =0)
I'll be catching up with follow backs and visiting all the lovely blogs over the weekend and next week (I've had a really busy couple of weeks and fell behind a little bit). If you're a new bloglovin follower, please leave me a comment and let me know so I can be sure to visit and show you some blog love!
Tweet
Each month, we grow our Bloglovin' following, meet some amazing blogging friends, and chat with each other. I look forward to it each week and I hope you do, too.
1. Follow your lovely host, co-hosts, and sponsors.
2. Add your link to the list below (be sure to link to your Bloglovin' profile and manually upload your photo).
3. Visit a few other bloggers, introduce yourself, and follow them on Bloglovin'.
4. Help me grow the hop even more by promoting, tweeting, sharing!
Grab A Button!
Join me at Meet & Greet! Click the button below to link up.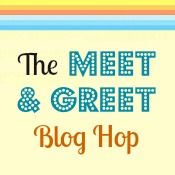 Tweet to @shopjustByou